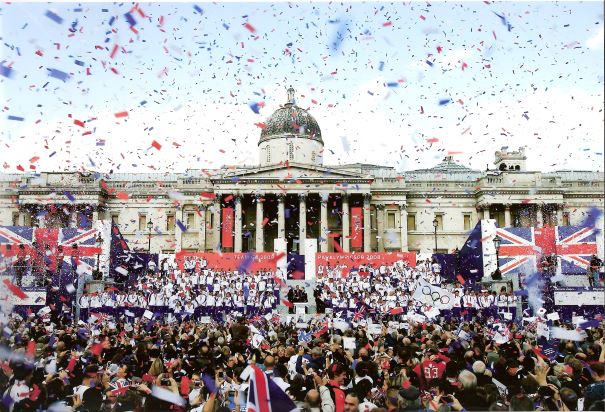 Celebrating a common event or accomplishment brings people together, sharing the joy of a national occasion, a milestone anniversary or sporting success.
To help the nation celebrate these special occasions, we have introduced a range of confetti cannons designed to match the colours or theme of the event.
With red and white confetti cannons to celebrate St Georges Day, blue and white confetti cannons for Hogmanay, red, white and green confetti cannons for a Wales win and of course, light and dark green for St Patrick's Day.
As the celebrations get underway, get the party started with a burst of colour and shower the partygoers in a storm of confetti.
Guaranteed to get a cheer every time, confetti cannons are a sure-fire way to inject energy and fun into the occasion. With your camera at the ready, snap away and see how confetti helps to capture the excitement of the moment with spectacular photos.
Not wanting anyone to miss out, we also have international days covered too, with the likes of green and gold confetti cannons for Australia Day and red, white and blue confetti cannons for Independence Day.
Bars and restaurants frequently have theme nights for notable dates throughout the year. We have special offer packs for both Valentine's Day and New Year's Eve loaded with heart confetti and silver glitter respectively, and with free delivery, they're a cost-effective addition that guests will love.
And finally, there are the big ones – the 25th and 50th anniversaries. Whether it's to mark the anniversary of a company, wedding or occasion, our silver confetti cannons and gold confetti cannons are the perfect addition to add a fitting sparkle to the event as the corks pop and the bubbles fizz.
And for the occasions we've missed or for a truly personal touch, use our confetti cannon wizard to create your perfect colour match in 3 easy steps. Simply choose type, size and colour and we'll create your unique cannons loaded with confetti in the colours of your choice.
Spectacular celebrations are only the twist of a confetti cannon away!
Visit www.confettisupermarket.com or call 01582 723502 for free and friendly advice.