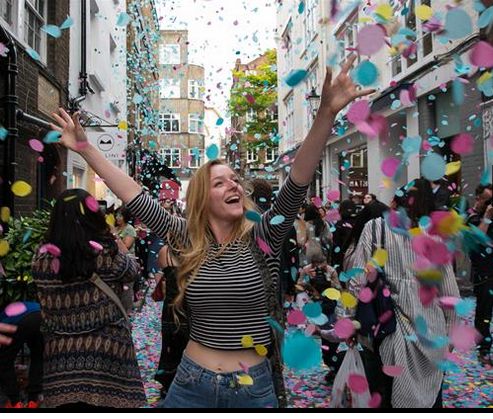 We are frequently asked 'how biodegradable is biodegradable confetti'?
Whether you are planning on using two hand-held confetti cannons outside the church as the newlyweds appear or CO2 Confetti Blasters to cover a festival crowd for the headline act, you want to know how long does biodegradable confetti last and is it going to harm the environment?
There are various options available depending on how fast you want it to disappear.
Biodegradable Tissue Confetti
The traditional option is tissue confetti. This is fully biodegradable and will leave no lasting trace. The time it takes to disappear depends on the weather. If it is wet and the confetti is in a public area with people walking on it, it can break down in a matter of hours. If it is dry, it will last until Mother Nature can get to work on it with wind and rain, then it will fully break down over a matter of weeks. When composted, it has been tested to break down in three months.
Generally, if it is a sensitive site, aim to collect what you can and this will greatly reduce the visual impact. What you don't get will blow away and break down naturally.
Water Soluble Confetti
BioFetti is the second option and we can now supply this loaded into our cannons. We recommend this for sensitive outdoor venues and festival sites. BioFetti is water soluble confetti, so will begin to dissolve with the first rain. With heavy rain, it can be gone in a matter of hours. Alternatively, wash it away with a hose and it will be gone in no time at all. One thing to bear in mind is that it will start to dissolve in mid-air if it is raining, so we don't advise using it in wet conditions.
BioGlitter Metallic Confetti
Finally, we have biodegradable metallic confetti. Please be very careful as most metallic confetti is plastic and will not biodegrade. BioGlitter is tissue based, with one shiny side and one coloured tissue side. This gives a wonderful flickering effect as the confetti tumbles through the air. It comes in a range of six colours and can be used both indoors and out. Like standard tissue confetti, it will take time for it to entirely disappear, but rest assured, it will fully biodegrade and vanish completely.
Further Reading - How To Take The Perfect Confetti Photo