Confetti cannons work by using energy from compressed nitrogen, which is stored in a cylinder at the bottom of the cannon. The nitrogen is released by turning a catch to undo the stopper that kept it in place, and surges through the cannon at speed, pushing the confetti out from the top of the tube.
How to use a confetti cannon at your big event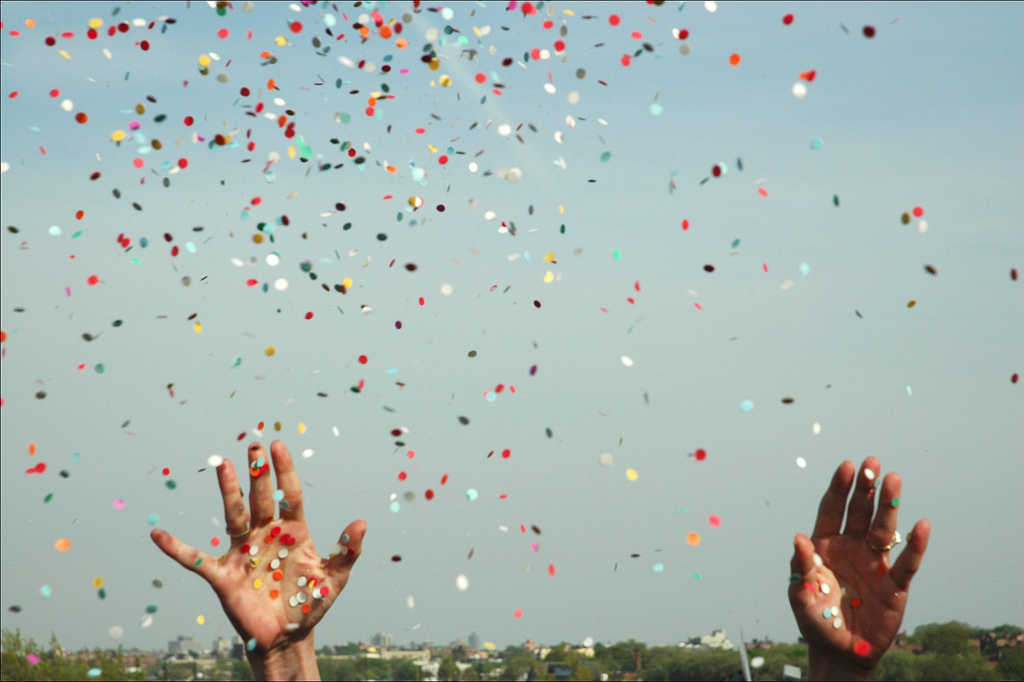 When using a confetti cannon at a wedding or other celebration, it's important to get it right first time. You don't want to miss your cue while you ponder how to use it! In advance of the big day, make sure you know how your confetti cannon works and how to launch the confetti, by following this simple guide:
First, ensure that your confetti cannon is loaded, so you have something to shoot. (All Super Shooter confetti cannons sold by Confetti Supermarket come pre-loaded with your choice of confetti).
You'll see that there is a paper circle covering the top end of the cannon. Pierce the circle to allow your confetti to come out.
It's worth practising how to hold the confetti cannon, as it's important to get the position right. Always point the cannon away from your body, facing upwards into the air. Ensure that no people or animals are in its path.
With one hand on the top part of the cannon and one on the bottom, twist the bottom part of the cannon anti-clockwise. This will release your confetti with a pop!
Are confetti cannons safe to use?
Confetti cannons aren't dangerous, provided that they are used with care. So, always ensure that you understand how to hold your confetti cannon safely, and be aware of others in your vicinity when you plan to let it off. Don't give them to very young children (they could sprinkle loose confetti instead).
Most confetti cannons (including all those sold by Confetti Supermarket) are powered by compressed air rather than explosives, so there's no fire or smoke produced.
What's the typical range of a confetti cannon?
Confetti cannons come in a variety of different sizes, which determine their range; the longer the cannon, the further it can shoot. Small cannons that measure around 25cm long can fire around 8 metres, while large cannons (measuring around 80cm) can shoot confetti up to 12 metres. So, your choice of cannon will depend on where you're using it – don't buy a cannon with a range that's larger than the room you'll be in.
How do confetti cartridges work, and how do they differ from
confetti cannons?
Confetti cartridges are very similar to confetti cannons, releasing a dramatic cloud of confetti at just the right moment. They too, work by storing up compressed nitrogen to push out the confetti. But in contrast to the way a confetti cannon works, a confetti cartridge uses electricity to release the stopper that allows the gas to travel through the tube and force out the confetti.
To use an electric confetti cartridge, you'll need to use a battery-powered firing system, which can be triggered by remote control.
Now you know how confetti cannons work, all that remains is to get your hands on the most suitable ones for your big event. Check out our range and contact us on 01582 723502 for more information.