When you decided to include confetti at your big occasion, you might not have realised just how many choices you would face! There's an astounding array of loose confetti to choose from, in different colours, shapes and materials – and that's before you even begin to consider the types of confetti that get fired from a cannon or placed inside balloons. If all this has led you to a bad case of confetti confusion, we're here to make things a bit clearer. Check out our quick guide to help you decide which type of confetti could be right for you.
What's the occasion?
The confetti you imagine throwing at a wedding is probably very different from the shimmering showstoppers that burst from a cannon. On the other hand, if you're planning an evening of entertainment that needs to go with a bang, a sprinkling of tissue paper probably won't provide the wow factor you're after. So the type of event you're arranging really does play a big part in the types of confetti you'll choose.
Look the part
It's possible to buy confetti in all the colours of the rainbow (and more). There's also a mind-blowing variety of materials and shapes at your disposal. So whether you're arranging an elegant affair or planning a more outlandish occasion, you can always ensure that the confetti you choose fits in with your party theme.
Choosing between confetti cannons
f you love the idea of launching confetti from a cannon but you're unsure about the different types of confetti cannon, here's a quick rundown.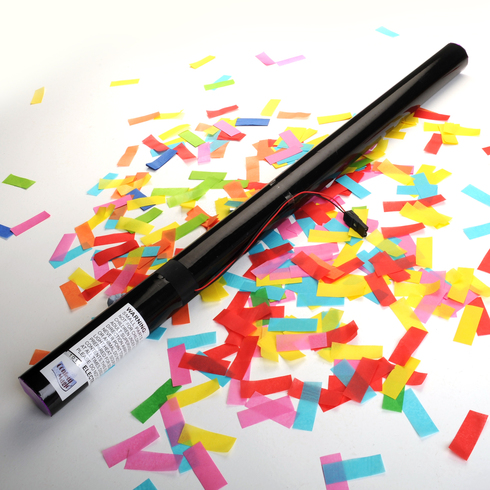 Best for non-stop celebrations: A Reloadable Confetti Cannon means you can keep partying for as long as you like. Simply reload your cannon and shoot: it takes just a minute to refill with more confetti.
Best for audience participation: Choose Confetti Wands that are simple to point and flick.
Best for a big bang: Handheld Confetti Cannons are perfect for weddings, birthdays and anniversaries - or quite simply, whenever you have something to celebrate!
Browse our range
Hopefully this blog has given you an insight into the confetti that might be right for your event. If you still haven't made up your mind, why not browse the different types of confetti we offer here at Confetti Superstore.