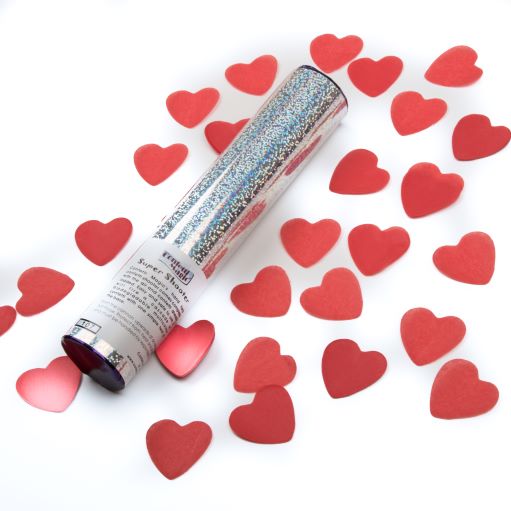 Whether you're planning to pop the question, reveal your everlasting love for someone or remind your one and only how much they mean to you, there's no doubt a burst of fluttering red hearts will add a romantic surprise to the moment.
Our Valentine's Confetti Cannons, loaded with biodegradable red tissue hearts, will create a stunning cascade of confetti to surround your loved one and bring a smile to their face.
Suitable for use indoors or out, you get to choose the time and the place for that personal touch.
If you are organising a Valentine's Party, then our confetti cannons are just as happy covering a dance floor. Need more? To fill a marquee or night club, why not go large and upgrade to our Large Custom Filled Confetti Cannons to shoot a spectacular blast of hearts to over 12 metres?
Our Special Offer pack of 4 Valentine's Confetti Cannons includes Free Delivery so order yours now at www.confettisupermarket.com and make Valentine's Day 2020 the one to remember.