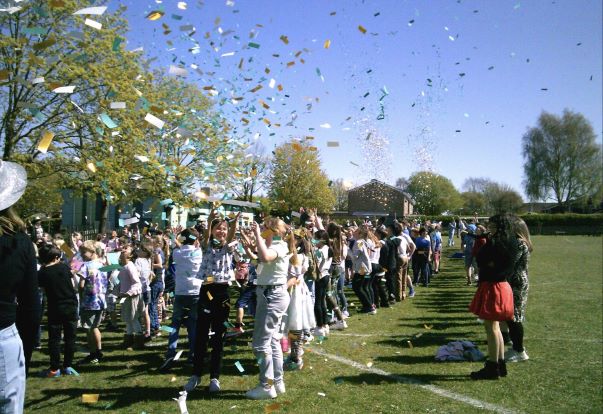 With blue skies above, the pupils of Prae Wood School in St Albans, gathered on the playing field to celebrate the school's 50th anniversary.
The pandemic prevented any plans for an indoor party, so the year group bubbles assembled outdoors, ready to join in a choreographed dance routine to the 70's classic, 'Is This The Way To Amarillo', enthusiastically led by year 2.
As a grand finale, the teachers had a big surprise waiting for the children. Positioned around the field, the staff simultaneously launched a cloud of gold and teal confetti to the delight of both the children and adults alike.
Using 80cm hand-held confetti cannons, the confetti was shot 12 metres into the air to ensure that the everyone experienced the excitement of confetti cascading around them.
Our unique gold BioGlitter allowed the golden anniversary to be marked in a fitting way while biodegradable teal confetti matched the school's colours.
The confetti helped to create wonderful memories of the occasion while the local newspaper carried the story, featuring a photo of the pupils celebrating as the confetti swirled around them.
Whatever you're celebrating, confetti cannons help to make the occasion that more special with fun, excitement and amazing photos that capture the moment forever. Visit www.confettisupermarket.com to buy yours.