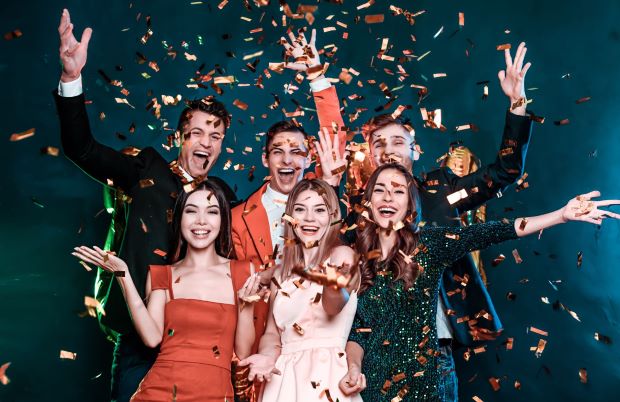 In true ConfettiSupermarket style, we are looking forward to raising our voices, glasses and confetti cannons to a fantastic 2021.
Soon we will be able to socialize with friends and family without restrictions, travel to new places, listen live to our favourite bands and feed our appetite for the arts with trips to the theatre and festivals. And that is a reason to CELEBRATE!
Whether it's with your family bubble, a small select group of 6 friends or at a hotel or restaurant, one thing is for certain, there are few of us that will be sad to see the back of 2020.
Happy New Year!
As Big Ben chimes in the New Year, a volley of confetti cannons is the perfect way to signal the end of the old and in with the new. A sparkling cascade of metallic confetti adds a real sense of celebration and never fails to inspire a cheer.
Biodegradable
Our new BioGlitter Cannons mean you can celebrate without costing the earth. The biodegradable metallic glitter confetti can be used indoors or out without fear of polluting the environment with single use plastic.
Choose your cannon to fit your room
We have a three sizes of confetti cannons to chose from; small, medium and large. Each shoots a stunning burst of confetti to 8m, 10m and 12 metres respectively.
Use small to cover a group of up to 6 people, medium if you have a larger venue with high ceilings and large to fill a hall or barn.
Special Offer
Looking for a bargain? We have a New Year's Eve Party Pack containing four small confetti cannons loaded with silver metallic confetti, including free delivery! Make sure your watches are synchronized and with a countdown to midnight, you can all fire your cannons together.
Order early
The couriers are predicting a very busy festive season for online deliveries and ultimately, that could lead to delays. Order early and we will ensure you receive your cannons in good time. They can be safely put away and stored until you need them and you will avoid that stressful last-minute panic.
Covid Secure New Year's Events
As things currently stand, some venues will be able to hold socially distanced New Year's Eve events. Confetti cannons are the ideal solution to making the midnight moment sparkle as confetti can be launched from around the room whilst covering each and every one of your guests, involving everyone in the fun and making them feel a part of the celebrations. Prefer to hire confetti cannons? Read our guide to New Year's Eve Confetti Cannon Hire .
Visit www.ConfettiSupermarket.com to place your order or call us on 01582 723502 for free and friendly advice.