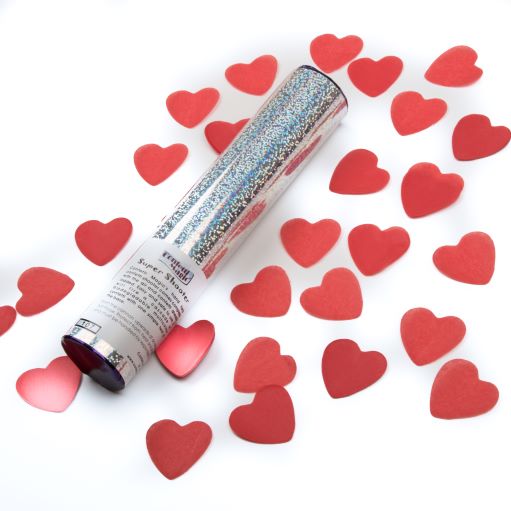 And what better way to show it than by launching a thousand fluttering hearts to surround your loved-one as you pop the question, present your gift or profess your undying love.
Our Valentine's confetti cannons come beautifully presented in a silver holographic wrap and are ready to burst with red, biodegradable tissue hearts.
A simple twist of the cannon will shoot confetti high into the sky, filling the air with love, indoors or out.
Restaurant owners, hotels and Valentine's party organisers can also rest assured that our professional cannons will deliver an unforgettable moment to get the party started.
We have a Special Offer pack of four small Valentine's cannons for just £31.80 including free delivery. These shoot up to 8 metres, creating a stunning cascade of heart confetti.
For bigger venues, order our medium or large confetti cannons loaded with hearts, shooting up to an incredible 12 metres. Now that's Big Love!
So, order your Valentine's Day confetti cannons today and start planning the perfect moment to surprise your loved-one.
For further information, visit www.confettisupermarket.com or call 01582 723502.