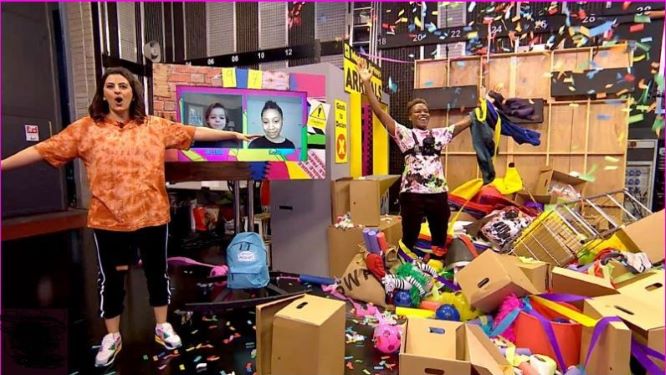 Our confetti cannons are trusted by film and TV professionals for their reliability and performance.
A regular user of our small multicolour confetti cannons is Saturday Mash-Up!
To catch our cannons in action, set your alarm and tune in to CBBC on Saturday morning for chance to see one of the guests showered in confetti as they search through boxes for items of underwear.
Nicola Adams caused chaos when she took part in 'Briefs Encounter'. The boxing champ and Strictly Star threw herself (quite literally) into the challenge to win a goodie bag for one lucky contestant.
As Nicola began her rampage in search of the items, the crew fired confetti cannons to add to the fun, with a final burst of confetti to mark the end of the game.
Finding a pair of pants may not be everyone's idea of a reason celebrate, but it might inspire you to think what everyday moment you would choose.
There are always reason to celebrate and our handheld confetti cannons are a sure-fire way to mark the moment in style.
Don't chance it with a cheapie. Follow the professionals and visit www.confettisupermarket.com to guarantee that your big moment isn't a small disaster.