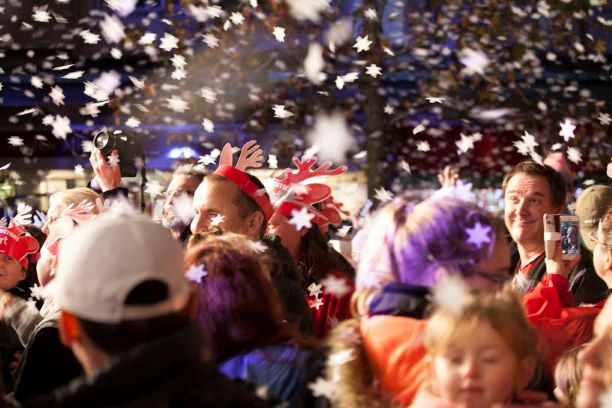 Once upon a time (I'm thinking the 80's), Christmas was all about a smorgasbord of colour with no thought given to coordination, theming or taste. Personally, that's how I still decorate my Christmas tree, but things have moved on.
Nowadays, corporate Christmas parties are all about chic colour schemes, elaborate themes and designer decorations. Whatever your plans, ConfettiSupermarket.com has a confetti cannon to suit your requirements.
Our popular multicolour confetti cannons will give you a retro burst of rainbow colours to add a touch of fun to the evening's entertainment. Our large multicolour cannons will shoot a spectacular shot of biodegradable tissue confetti up to 12m, so even if you're in a marquee, there's no need to worry if any confetti makes it outside.
For those with a specific colour palette, we can custom fill our confetti cannons with any colour or combination of colours to match your theme.
If you fancy adding a sparkle to the festivities, our glitter cannons will dazzle and delight with a sky full of flashing lights. If you're indoors, choose your mix from a range of 7 metallic colours and for outdoors, and those wanting to reduce single use plastic, we have our brand-new gold and silver biodegradable metallic confetti.
If you're celebrating at home with friends and family, you can still enjoy the fun and thrill of a burst of confetti. Our small confetti cannons come in all the same options as mentioned above but have a shorter range of up to 8m. Why not celebrate the start of your Christmas feast as the turkey is brought to the table? Just remember to warn whoever is carrying it, we don't want any reports of dropped dinners!
To add confetti cheer to your Christmas party, visit www.confettisupermarket.com or call us on 01582 723502.